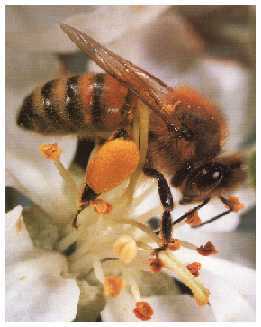 Index for this page:
Package Bee Production video
Educational Videos
Educational Papers
Supplemental Feeding of Honey Bee Colonies
How Package Bees Are Produced
We will explore how beekeepers who sell package bees make up packages to sell. We will look at the various times of the year packages are available and in what locations. We will also see how and when nucs are made and when queens are produced. We will include videos on the package bee business that demonstrate the various processes.
WHEN PACKAGES OF BEES ARE Produced
In order to understand when packages of bees are made and available to purchase from large beekeepers we must understand the wintering process. Bees must be over wintered in warmer climates. Most large beekeepers begin moving their bees in October and November to southern states like Florida, Arizona, California and Texas.
The hives are fed a carbohydrate (sugar water) and a protein (pollen or a pollen substitute). Beekeepers will feed continually until there are 6 to 9 frames of brood by mid February. At this time most of the large outfits will truck their bees into the almond groves in California to pollinate almonds. Moving the bees these long distances are worthwhile from two stand points. First they receive a pollination fee ranging from $125.00 to $175.00 per hive, then they are able to sell up to two thirds of their bees to the rest of the beekeepers who are looking to expand or replace dead outs.
The beekeepers begin to move their hives northward up the state as the almond bloom progresses and then move into other orchards that need pollinating such as citrus, peaches, plums and apples. Almonds finish blooming in March and the rest of the fruit varieties finish in April. Because of the continued rapid build up of bees while pollinating these crops the hives are bursting with bees and ready to swarm.
When the hives reach the point of swarming is when beekeepers begin to divide their hives. The hives can be divided into a number of different types. You can split a hive into two or three singles. You can make up various quantities of nucs or you can make up packages of bees. If you look at the major bee journals you will see many of these beekeepers posting ads for their bees for sell after almonds in these various categories. Some will advertise all year and some begin in September and October. Most bee hives, singles and nucs are sold before mid November.
The package bee business has been built off of the pollination in the various states. We have listed the almonds in California since this is the largest source of bees for sell. But other southern states such as Florida, Texas, Georgia to name a few warmer climates will not go to California for almond pollination but will remain in their own states feeding and pollinating their bees for the purpose of dividing them to sell in April, May and June.
The following videos are compiled by various sources and are excellent material for training beekeepers. Please understand that the information presented may not reflect the same attitude and beliefs of A-Bee Honey or Costanza Orchards in the various management practices that are exhibited in these video presentations. Unless stated the following videos were posted on YouTube. The series titled "Honey Bees and Beekeeping" are presented on YouTube with permission of the University of Georgia Center for Continuing Education. Because of the value of these videos to our industry we are listing the order information here: To purchase the complete "Honey Bees and Beekeeping" television series on DVD or accompanying book, from the University of Georgia Center for Continuing Education please call 1-800-359-4040.
See how packaged bees are made.
To order package Bees or Nucs click here
Installing a Package In A Hive
To order package Bees or Nucs click here
To order package Bees or Nucs click here
To order package Bees or Nucs click here
Click here to see Products
Mailing Address
P.O. Box 903
Edgewood, New Mexico 87015
505-286-4843
New
How to reduce your Property Taxes with Honey Bees
How Packaged Bees Are Produced
Honey
Our honey is produced in various yards throughout NM and Colorado.
Our primary yards are in Albuquerque, Belen, Corrales, Edgewood, Las Cruces, Los Lunas, Alcalde and Taos
Bumble bees, yellow jackets,
paper wasps,
ground nesting bees and
honey bees
Again for 2018:
Honey and bee pollen by zip code in Albuquerque and surrounding area. Click here for more information. Where to Buy Honey & Pollen by Zip Code